Grace Three Bean Salad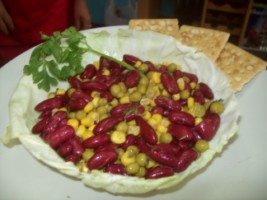 Instructions
Rinse Grace Red Kidney Beans in brine, Grace Whole Kernel Corn, Grace Green Peas, and combine in a bowl.

In a separate bowl, mix Grace White Vinegar, sugar, Kent Boringer Olive Oil, Oregano, Malher Garlic Powder and Malher Onion Powder Whisk thoroughly.

Pour dressing over beans and toss to mix.

Cover and allow to marinate for an hour.

Garnish with chopped parsley and serve.


*Marinate under refrigeration. *Serve as a cooked salad or as a side dish.