Grace Corned Beef Dip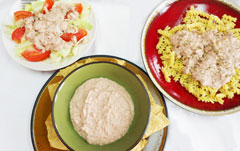 Instructions
Heat A Pot On Medium.

Add Grace Corned Beef And Stir For

1 Minute

To Loosen Up. Remove From Heat.

In A Bowl, Place Cream Cheese And Grace Salad Cream.

Use A Hand Mixer, Blend On High Speed For About

2 Minutes

.

Add In Onion, Grace Evaporated Milk, Continue To Mix.

Add In Malher Seasonings.

Continue To Mix Until All Ingredients Have Blended Well.

Serve Over Cooked Pasta Or Fresh Tossed Salad.
To Serve As A Dip
Add ¼ Cup Grace Evaporated Milk And Grace Habanero Pepper Sauce.

Serve With Crackers Or Fried Corn Tortilla Chips