Spanish Rice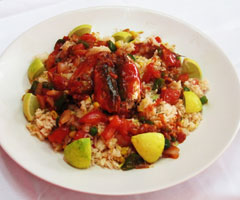 Instructions
Wash Rice, Set Aside. In A Pot, Bring Water And Grace Coconut Milk Liquid To A Boil.

Add Rice To Pot With Malher Consome, Malher Garlic Powder, Cook On Low Heat.

In A Frying Pan Add Grace Coconut Oil, Onion Sweet Pepper, Cilantro And Grace Whole Kernel Corn.

Add to pot with rice and stir gently.

Cook on low heat for about

30 minutes

. Serve hot.