Grace Sweet Corn and Potato Medley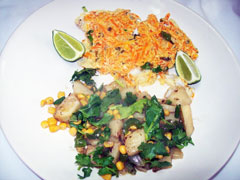 Instructions
Peel, Wash And Dice Potatoes.

Place In A Bowl And Season With Malher Consome, Malher Black Pepper And Malher Garlic Powder.

In A Frying Pan, Heat Grace Coconut Oil.

Stir Fry Potatoes In Grace Coconut Oil Until Brown.

Add Some Water To Pot And Let Simmer For

5 Minutes

, Stir Occasionally.

Add Onion, Sweet Pepper And Grace Whole Kernel Corn.

In A Separate Bowl, Mix Cornstarch With 1/4 Cup Of Water.

Add Cornstarch Mixture To Potatoes Gradually.