Grace Coconut Fried Shrimp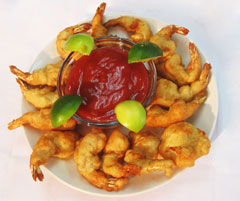 Instructions
Wash Shrimp With Grace Vinegar, Drain.

Season With Malher Consome, Malher Black Pepper And Malher Garlic Powder.

In A Bowl Put Flour, Eggs And Grace Coconut Milk, Mix Together.

Heat Grace Vegetable Oil In A Frying Pan.

Dip Shrimp In Coconut Batter And Deep Fry Until Golden Brown.

Put Grace Picante Ketchup In A Small Bowl And Place On Plate With Coconut Fried Shrimp.