Flan with Grace Coconut Whipped Topping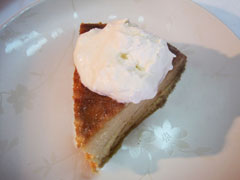 Instructions
Grease Baking Dish With Grace Vegetable Oil And Sprinkle Brown Sugar Over Botton Of The Dish.

Place Dish In Oven At 350 Degrees For

5-10 Minutes

Or Until Sugar Melt.

In A Separate Bowl, Mix Condensed Milk Evaporated Milk With A Hand Blender On Low Speed.

Add Eggs, Benjamins Nutmeg Extract, Benjaminsvanilla Essense Andrum Essence.

Pour Mixture Into Greased Baking Dish.

Place Another Dish With Water In The Oven.

Bake For

30 Mins

At 350 Degrees Then Turn Oven Heat Down At 250 Degrees.

Bake Until Set, Test With In The Middle.

Sprinkle With Malher Cinnamon Powder For Garnish.
Alternate Option For Glaze
In A Pot Put Grace Vegetable Oil, Stir In Sugar Until Glaze Forms.
For The Topping
Combine The Whipped Cream And Grace Coconut Milk Powder In A Bowl And Whisk Well.

Refrigerate For At Least

1 Hour

.