Grace Luncheon Meat Oriental Style #2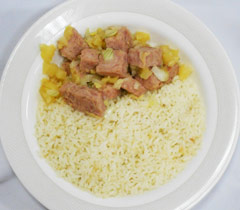 Instructions
Heat A Pot On Medium.

Add Grace Vegetable Oil And Margarine.

Stir In Grace Luncheon Meat For

2 Minutes

And Let Brown.

Drain Any Excess Oil In A Container.

Add Onions And Stir.

In A Separate Bowl Mix Together Crushed Pineapple, Malher Black Pepper, Ginger And Grace Soy Sauce. Add Mixture To Pot.

In A Bowl Mix Malher Consome With Water.

Add Consome Mixture To Pot.

Let Simmer For

5 Minutes

On Low Heat.


*Serve With Grace Coconut White Rice Or Noodles.