Shrimp Fritters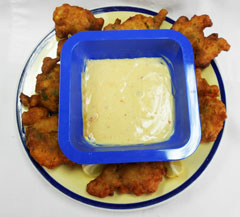 Instructions
Wash Deveined Shrimp With Grace Vinegar & Drain. Put In A Bowl.

In A Separate Bowl, Add Flour, Grace Baking Powder, Malher Consome, Malher Garlic Powder, Malher Black Pepper, Onion, Cilantro And Thyme.

Mix Well With A Spoon And Add Shrimp And Water.

Beat Mixture Until It Forms A Stiff Batter.

Heat Grace Vegetable Oil In A Frying Pan On High.

Use A Tablespoon To Put Batter Into Frying Pan.

Cook On Both Side For Approximately

3 Minutes

Or Until Golden Brown.

Keep Fritter Small To Ensure It Cooks Through With Little Time.

Drain On Paper Towel And Serve With Grace Dipping Sauce.

Garnish With Lime Or Lemon Wedges.
Dipping Sauce:
In A Bowl Put Grace Salad Cream, Mix In Malher Garlic Powder, Malher Black Pepper And Grace Habanero Pepper Sauce.


*You Can Substitute Water With Carib Beer To Do A Beer Batter.