Grace Luncheon Meat in Tomato Sauce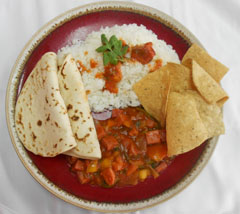 Instructions
Heat A Pot On Medium.

Add Grace Coconut Oil.

Add Onions And Stir, Add Cilantro, Tomato, Sweet Pepper And Stir For

2 Minutes.

Add In Tomoto Sauce.

Add In Water.

Add More Water As You Desire.

In A Separate Pot, Pan Fry Diced Grace Luncheon Meat, Stir For

3 Minutes

Until Slightly Brown.

Add Luncheon Meat To Pot With Tomato Sauce.

Add Malher Complete Seasonings, Malher Black Pepper And Malher Garlic Powder.

Add Grace Soy Sauce And Let Simmer For

2-3 Minutes

.

Serve Or Grace Coconut White Rice, Flour Tortillas Or Corn Tortilla Chips.


*Optional Add Grace Habanero Pepper Sauce.