Grace Luncheon Meat Oriental Style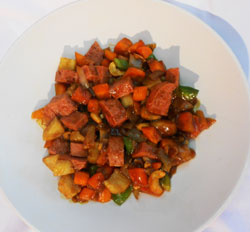 Instructions
Heat Pan On Low, Add Butter And Grace Vegetable Oil, Saute' Garlic And Add Diced Potato And Carrot.

Add Grace Curry Powder, Grace Soy Sauce And Sugar, Cook For

3 Minutes

Until Potato And Carrot Is Cooked.

Add Sweet Pepper And Onion, Cook For

1 Minute

, In A Cup, Mix Malher Consome In Water, Add Malher Consume Mixture And Malher Black Pepper To Pot, Simmer For

2 Minutes

, Add Grace Luncheon Meat And Nuts , Thicken With Corn Starch, Stir And Serve Hot.


May Serve With Grace Coconut Rice.