Grace Luncheon Meat and Zucchini Cakes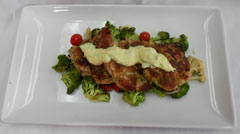 Instructions
In A Bowl, Mix Together Grated Grace Luncheon Meat And Grated Zucchini.

Drop In Egg, Add Diced Onion, Thyme And Bread Crumbs, Mix Together With Your Hands.

Use Your Hands To Form Into Desired Size Cakes.

Heat Frying Pan On Medium, Add Grace Vegetable Oil.

Fry Cakes On Both Sides For Approximately

Two Minutes

Or Until Brown.
Grace Salad Cream Sauce
Put All Ingredients In A Bowl And Whisk To Mix.

Serve Over Grace Salad Cream And Zucchini Cakes And Stir Fried Vegetables.