Cinnamon Rolls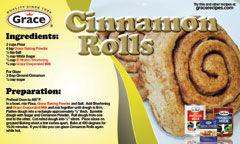 Ingredients
For Glaze
3

Tbsp

Ground Cinnamon

1/4

Cup

Sugar
Instructions
Preheat Oven To 400'f .

In A Bowl, Mix Flour, Grace Baking Powder And Salt.

Add Shortening And Grace Evaporated Milk And Mix Together Until Dough Is Firm.

Flatten Dough Into A Rectangle Approximately 1/4" Thick.

Sprinkle Dough With Sugar And Cinnamon Powder.

Roll Dough From One End To The Other.

Cut Rolled Dough Into 1/2" Slices.

Place Slices On Greased Baking Sheet A Few Inches Apart.

Bake At 400 Degrees For

15-20 Minutes

.


If You'd Like You Can Glaze Cinnamon Rolls Again While Hot.