Grace Layered Bread Pudding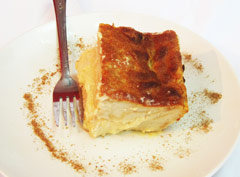 Instructions
Custard
Heat Pan On Low.

Add Sugar, Stir In Flour, Corn Starch.

Add Grace Evaporated Milk A Cup At A Time.

Stir Continuously For

4-6 Minutes

Until Mixture Thickens.

Add Egg Yolk And Benjamin's Vanilla.

Stir For

2-3 Minutes

And Remove From Heat.
Bread Mixture
Place Bread In A Large Bowl And Break Up In Pieces.

Add Water And Mix Until Bread Is Soft, Add Grace Evaporated Milk, Grace Condensed Milk, Butter, Egg, Benjamin's Nutmeg Extract, Benjamins Cinnamon Extract And Benjamins Vanilla Essence And Stir Well.

Layer Bread Mixture Into A 9" Baking Dish, Put A Layer Of Custard, Then A Layer Of Bread Mixture, Another Layer Of Custard And Then The Remaining Bread Mixture.

Mix Together Sugar And Cinnamon Powder And Top Off Bread Pudding.

Place A Pan Of Water In The Bottom Of The Oven To Prevent Custard Filling From Burning.

Bake Bread Pudding At 375◦F For About

40 Minutes

Or Until Firm And Brown.