YUS Blackberry Pancakes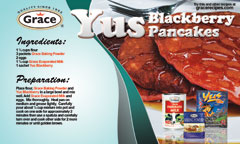 Instructions
Place Flour, Grace Baking Powder And Yus Blackberry In A Large Bowl And Mix Well.

Add Grace Evaporated Milk And Eggs. Mix Thoroughly.

Heat Pan On Medium And Grease Lightly.

Carefully Pour About 1/2 Cup Mixture Into Pot And Cook On One Side For Approximately

2 Minutes

. Then Use A Spatula And Carefully Turn Over And Cook Other Side For

2 More Minutes

Or Until Golden Brown.