Flour Tortillas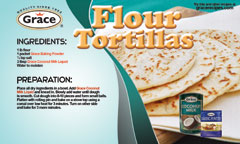 Instructions
Place All Dry Ingredients In A Bowl.

Add Grace Coconut Milk Liquid And Knead In.

Slowly Add Water Until Dough Is Smooth.

Cut Dough Into 8-10 Pieces And Form Small Balls.

Flatten With Rolling Pin And Bake On A Stove Top Using A Comal Over Low Heat For

3 Minutes

.

Turn On Other Side And Bake For

3 More Minutes

.