Corned Beef Waffles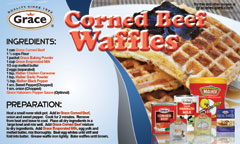 Instructions
Heat A Small None Stick Pot.

Add In Grace Corned Beef, Onion And Sweet Pepper.

Remove From Heat And Leave To Cool.

Place All Dry Ingredients In A Large Bowl And Mix Well.

Add Grace Corned Beef Mixture To Dry Ingredients.

Add Grace Evaporated Milk, Egg Yolk And Melted Butter, Mix Thoroughly.

Beat Egg Whites Until Stiff And Fold Into Batter.

Grease Waffle Iron Lightly.

Bake Waffles Until Brown.