Grace Vegetarian Sweet Corn Soup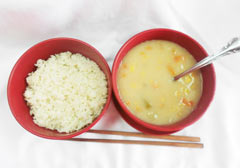 Instructions
In A Deep Pot Add The Grace Cream Style Sweet Corn And Water. Mix Well.

Add Grace Mixed Vegetables And Stir.

Cook For

5 Minutes

On Medium Flame.

Add Grace Whole Kernel Corn And Grace Evaporated Milk.

Cook For

2 Minutes

On Medium Flame.

In A Bowl, Mix The Corn Starch In 4 Tablespoons Of Water And Set Aside.

Add Sugar And Salt To The Simmering Soup And Cook Further For

3-4 Minutes.

Add Malher Black Pepper And Grace Soy Sauce And Stir.

Add Corn Starch Mixture And Stir Until The Soup Thickens.

Add Grace Coconut Oil And Stir For

2 Minutes

, Turn Off Heat And Pour Into Soup Bowls.