Mackeson Chicken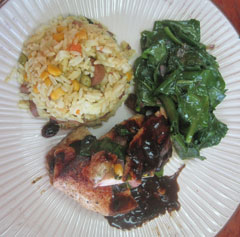 Instructions
Clean Chicken Breast And Season With 1 Sachet Malher Complete Seasoning, 1 Sachet Malher Black Pepper And All Spice.

Add ½ Bottle Mackeson Stout And Let Sit For

Half An Hour

.

Drizzle Coconut Oil In A Frying Pan Add Basil, And Then Sear The Chicken Breast For Approximately

10 Mins.

When Done, Remove The Chicken From The Pan, And Pour In The Remainder Of The Mackeson Stout.

Add More Complete Seasoning And Black Pepper As Desired, As Well As A Dollop Of Grace Salad Cream.

Stir Over Heat Until Desired Thickness Is Achieved.

Pour Sauce Over Chicken And Enjoy!