Bimecacule (Sweet Rice)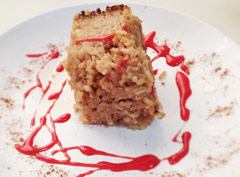 Instructions
Soak Rice In Water For

One Hour

.

In A Pot On Medium Heat, ½ Cup Sugar For Coloring.

Add Grace Coconut Milk Liquid And Water, Then Add Grace Condensed Milk, Remaining Sugar, Benjamins Nutmeg Extract, Benjamins Cinnamon Extract, Benjamins Vanilla Essence And A Pinch Of Salt.

Stir Well. Stir In Butter And Ginger, Bring To A Boil.

Add In The Rice And Stir Constantly Until Most Of The Liquid Is Dry.

Cover And Let It Soak For

20 Minutes

, Stirring Once Or Twice Until Tender.

Let Sit For

20 Minutes

Until Cool Before Slicing And Serving.