Grace Summer Breakfast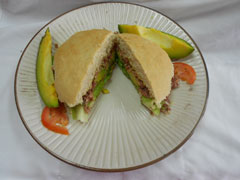 Instructions
Add Malher Consome To Eggs.

Heat Grace Vegetable Oil In A Frying Pan On Medium.

Add Sweet Pepper And Onions To Grace Vegetable Oil And Fry For Approximately

1 Minute

.

Add In Grace Corned Beef And Stir Until All Ingredients Mix Well. Serve Warm

Peel Avacado.

In A Separate Bowl, Mash Avacado And Mix In Malher Complete Seasonings.

In A Separate Bowl, Mix In Grace Salad Cream And Grace Mustard To Make A Spread.

Place Spread On Bread.

Add Lettuce And Avacodo.

Place Grace Corned Beef Eggs On Top And Layer With Tomatoes.


Optional - Add Grace Habanero Pepper Sauce