Gungude (Garifuna Porridge)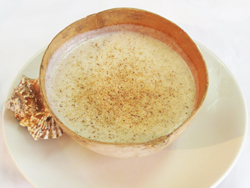 Instructions
In A Deep Pot, Bring 2 Cups Of Water To A Boil.

In A Bowl Pour In 1 Cup Water, Stir In Gungude Powder.

Pour Mixed Gungude Mixture In Pot Of Boiling Water.

Stir In Grace Evaporated Milk And Grace Condensed Milk.

Stir For

5-10 Minutes

To Get The Thickness You Desire.

Stir In Benjamins Vanilla Essence And Nutmeg Extract.

Continue Stirring For

5 Minutes

.


Serve Hot Or Cold. Garnish With Grated Nutmeg Or Malher Cinnamon Powder.