Vegetable Rice With Sausage and Braised Spinach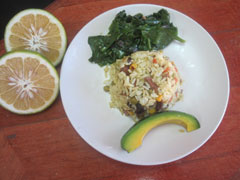 Instructions
Begin By Drizzling Oil In A Hot Skillet.

Next Add In The Diced Onions And Let Cook For 2 Minutes.

Add In The Grace Peas & Carrots, Grace Whole Kernel Corn, Grace Hot & Spicy Vienna Sausages And Spinach.

Grate Approximately 1 Tsp. Lime Zest Into Mixture And Let Pan Fry For

2 More Minutes.

Next Fold In The Rice And Add Grace Curry Powder.

Keep Moving For

3-5 Minutes

Until Done.


Spinach Can Be Braised Separately Lightly Seasoned With Salt And Black Pepper.