Grace Avocado Salad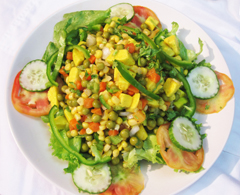 Instructions
Rinse All Vegetables In A Bowl.

In A Separate Bowl, Mix Grace Vinegar, Sugar, Grace Coconut Oil, Malher Garlic Powder, And Oregano; Whisk Thoroughly.

In A Separate Bowl, Drain And Mix Grace Peas & Carrot, Grace Whole Kernel Corn, Onions, Sweet Pepper, And Diced Avocados.

Pour Dresssing Over Vegetables And Toss To Mix.

Add To A Patter, And Place Shredded Lettuce.

Spoon Vegetable Mixture Over Lettuce.

Lay Slice Tomato And Slice Cucumber.

Top Off With Freshly Chopped Cilantro Or Parsley.