Grace Luncheon Meat Chop Suey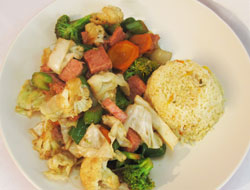 Instructions
In A Bowl, Dissolve Corn Starch In 4 Tbsp Of Water And Set Aside.

Heat 3 Tbsp Grace Vegetable Oil In A Frying Pan.

Add Garlic And Onions, Sauté For

2-3 Minutes.

Add Carrots, Celery, Broccoli And Cauliflower Stirring Occasionally For

3 Minutes.

Add Sweet Pepper And Cabbage.

Add Malher Consome And Grace Soy Sauce.

Add Grace Luncheon Meat.

Pour In Corn Starch.

Continue To Cook For

2-3 Minutes

Until Slightly Thicken.


Serve Warm With White Rice.