Thin Steak in Grace Soy Sauce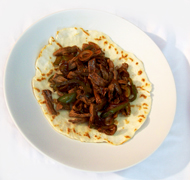 Instructions
Wash Steak With Grace Vinegar.

In A Separate Bowl, Combine Grace Soy Sauce, Lime Juice, Grace Coconut Oil, Malher Garlic Powder, Malher Black Pepper And Sugar, Mix Well.

Marinate Southside Meat Thin Steak In Grace Soy Sauce Mixture For Approximately

20 Minutes

.

Heat Butter And Add Steak, Add Sweet Pepper And Onions.

Add Corn Starch To Soy Sauce Mixture And Pour Into Pot.


*Serve Hot With Flour Tortillas, Rice Or Noodles.