Grace Corned Beef Sheperd's Pie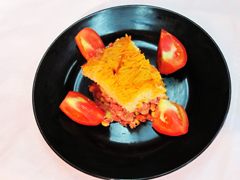 Instructions
Heat Oven To 350 F.

Boil The Potatoes Until Soft Then Drain Water.

Mash Potatoes And Add Butter, Grace Evaporated Milk And Malher Garlic Powder To Taste.

In A Frying Pan, Heat Grace Vegetable Oil, Add Grace Onions, Sweet Pepper, Malher Garlic Powder, Malher Black Pepper , Malher Consome And, Saute For

2 Minutes

.

Add Grace Corn Beef And Mix Thoroughly.

Add Grace Scotch Bonnet Sauce Or Grace Habanero Pepper Sauce.

In A Greased Pyrex Dish, Spread Sauteed Grace Corned Beef Mixture.

Layer The Grace Sweet Corn And Grace Mixed Vegetables On Top.

Spread Mashed Potato, Distribute Evenly. Sprinkle Shredded Cheddar Cheese.

Bake At 350 F For

20 Minutes

.