Curry Johnny Cakes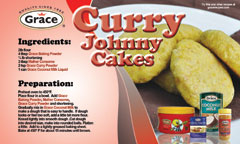 Instructions
Preheat Oven At 450 degrees Fahrenheit . Place Flour In A Bowl.

Add Grace Baking Powder, Malher Consome, Grace Curry Powder And Shortening.

Gradually Mix In Grace Coconut Milk To Make Dough That Is Easy To Handle. If Dough Looks Or Feel Too Soft, Add A Little Bit More Flour.

Knead Lightly Into Smooth Dough. Cut Dough Into Desired Size; Make Into Rounded Flatten A Little.

Add To A Lightly Greased Baking Sheet.

Bake At 450 degrees Fahrenheit For About

15 Mins

Until Brown.