Grace Fruity Bread Pudding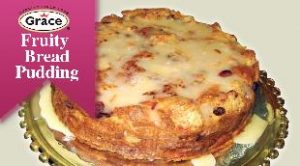 Instructions
Place La Popular Bread In A Large Bowl And Break Up In Pieces.

Add Water And Mix Until Bread Is Soft, Add Grace Evaporated Milk, Grace Condensed Milk

Butter, Vanilla, Malher Cinnamon Powder And Stir Well.

Add Fruit Cocktail.

Spoon Mixture Into A 9" Baking Dish. Bake At 350˚F For About

35 Minutes

Or Until Firm And Brown.


Suggested Servings- Pour Grace Evaporated Milk Over Slice And Serve.