Tofu Cassava Salad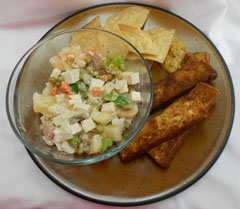 Instructions
In A Bowl, Peel, Wash And Dice Cassava.

Boil For

5-10 Minutes

Or Until Soft.

Remove From Heat And Place In A Bowl. Heat Pot On Medium.

Add Grace Vegetable Oil To Glaze Pot.

Stir In Diced Onions And Sweet Pepper.

Saute For A Few Minutes. Remove From Heat.

Add To Bowl With Boiled Cassava.

Add Grace Mixed Vegetables, Add Grace Salad Cream And Mix With A Spoon.

Add Malher Black Pepper.

Top With Sliced Mushroom.


*Serve With Corn Tortilla Chips Or To Substitute For Potatoe Salad.