Grace Curry Potatoes #2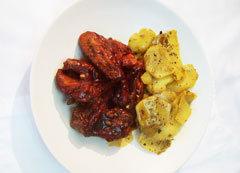 Instructions
Peel and wash potatoes, slice thinly.

In a sauce pan, heat Grace vegetable oil.

Add garlic and rosemary and saute over moderate heat until garlic begins to look golden.

Remove cooked bits of garlic and rosemary from oil.

Reheat grace vegetable oil and add Grace Curry Powder, stir together.

Add sliced potatoes, Malher Consome, Malher Black Pepper and water.

Stir until ingredients are mixed together and water starts to boil.

Cover pot and cook on low heat, for

10-15 minutes

, stir occasionally until potatoes are tender.