Grace Jerk Pork Tenderloin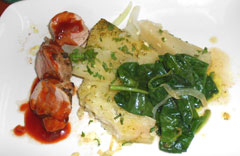 Instructions
Marinate Pork Tenderloin With Grace Jerk Seasoning

One Hour

Before Cooking.

In A Bowl Add Malher Beef Consome And Mix In Hot Water Until Dissolved.

In A Sauté Pan, Heat Grace 2 Tbsp Grace Vegetable Oil And Sear The Pork Tenderloin On All Sides.

Add Malher Beef Broth And Cover For

10 - 12 Minutes

. Remove From Heat.


*To Serve: Slice The Pork Tenderloin On An Biased Angle Serve With Grace Guava Glaze Sauce And Pan Fried Coconut Garlic Cassava