Seasoned Rice from Antigua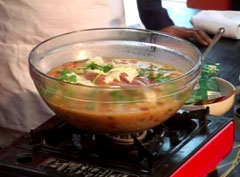 Instructions
Fill A Pot With Water Up To Halfway.

Add The 2 Tablespoons Of Grace Coconut Oil And The Stock/ Water From The Grace Mixed Vegetables To The Boiling Water.

Next Add The Rice Into The Water, And Then Add The Malher Beef Bouillon, Malher Black Pepper, Malher Garlic Powder, And The Grace Coconut Milk Powder.

When The Rice Is Almost Done Cooking, Add The Grace Mixed Vegetables.

Add Approximately 1-2 Cups More Water To The Pot.

Keep It Cooking For

30 Minutes

Then Add Fresh Cilantro And Diced Tomatoes.

Add Grace Habanero Pepper Sauce To Taste (Optional).

Keep It Cooking For Another

10 Minutes

.

Lastly Mix In The Diced Grace Luncheon Meat.