Grace Jerk Fish With Stir Fried Vegetables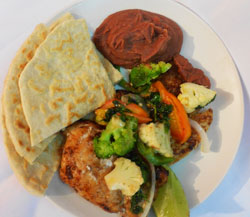 Ingredients
Stir Fried Vegetables
½

Small

Onion

Diced

½

Small

Sweet Pepper

Diced

½

Small

Tomato

Diced

2

Springs Cilantro

Finely Cut

½

Cup

Cauliflower

Cut In Bite Size Pieces

½

Cup

Broccoli

Cut In Bite Size Pieces

1

Tbsp

Malher Consome

4

Tbsp

Grace Coconut Oil
Instructions
Grace Jerk Fish
Wash Fish And Squeeze Lime Juice Over It.

Place Fish Fillet In A Bowl.

Add Malher Garlic Powder And Grace Jerk Seasoning.

Rub Over Each Piece Of Fish.

Heat Pot On Medium And Add Grace Vegetable Oil.

Place Fish In Oil And Fry On Both Sides For About

5 Minutes

Or Until Brown And Cooked Through. Remove Fried Fish From Oil And Place In A Plate.
Stir Fried Vegetables
Heat Frying Pan On Medium And Add Grace Coconut Oil.

Stir In Vegetables.

Add Malher Consome And Continue To Stir For

3 Minutes

.

Place On Top Of Fried Fish Fillets.

*Serve With Malher Refried Beans And Flour Tortillas.
Beans
Heat Pot On Low, Add Grace Coconut Oil.

Stir In Onion And Cilantro.

Add Malher Refried Beans.