Grace Coconut Flour Tortillas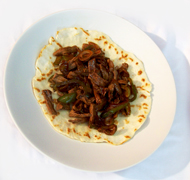 Ingredients
1

Lb

Flour

3

Tsp

Baking Powder

1/2

Tsp

Salt

1/4

Lb

Shortening

1/2

Cup

Grace Coconut Powder

Water

To Moisten
Instructions
Place All Ingredients In A Bowl Except Water.

Add Enough Water To Moisten.

Knead Lightly Until Dough Forms.

Cut Dough Into 10 Pieces And Form Small Balls.

Flatten Balls With Hand Or Rolling Pin.

Bake On Stove Top Using Iron Griddle Or Comal Over Low Heat.

Cook For

3-4 Minutes

On Each Side.


*1/4 Lb Shortening Can Be Subtituted For 1/2 Cup Grace Vegetable Oil.