Caldo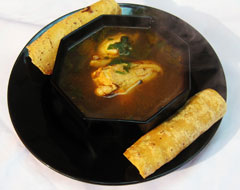 Ingredients
1

Whole Chicken

Recado

Mint Leaf

Chopped

Scallion

Chopped

Culantro

Chopped

Thyme Leaf

4

Cups

Water
Instructions
Put 3 Cups Of Water To Boil.

Clean And Cut Chicken Then Rinse With Grace Vinegar.

Dissolve One Small Recado In A Cup Of Water And Set Aside.

Season Chicken With Malher Consome, Malher Black Pepper And Malher Garlic Powder.

Add Seasoned Chicken To Boiling Water.

Let Boil For

10-15 Minutes

. Stir In Recado.

Add Mint Leaf, Scallion, Culantro And Thyme Leaf.

Let Boil For Approximately

5 Minutes

.


Serve With Corn Tortillas.