Deboned Stuffed Chicken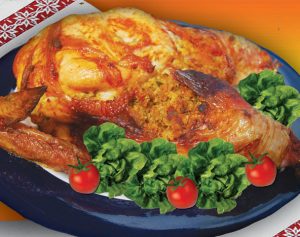 Ingredients
Stuffing
2

Tb

Spoon Butter

1/2

Cup

Chopped Onion

Small Onion

1/2

Cup

Chopped Sweet Pepper

Small Pepper

2

Cups

Breadcrumbs

1/2

Cup

Water
Instructions
Using A Very Sharp Knife Make A Slit Down The Back Of The Chicken.

Moving The Knife Skillfully Along And Close To The Bone As Possible, Remove The Flesh Without Damaging The Skin.

Remove The Bone From The Upper Part Of The Wing.

Do Not Remove Lower Bones.

Continue To Cut Along Boney Framework.

Do Not Damage The Flesh. Remove Leg Bones. Leave The Tip On.

The Framework Should Be Taken Out Whole.

Wash And Season Chicken.

Fill Chicken With Stuffing And Sew Up.

Base With Grace Coconut Oil And Bake.

Baking Temp. 350 F. Bake Approximately

1 Hour

Or Until When Fork Is Inserted Into Flesh No Liquid Runs Out.
To Prepare Stuffing
Melt Butter In Skillet.

Saute The Onions And Sweet Pepper.

Add Bread Crumbs To Sauted Vegetables.

Stir In Stock And Add Seasonings, Mix Well, Remove The Heat.