Grace Creamy Baked Lion Fish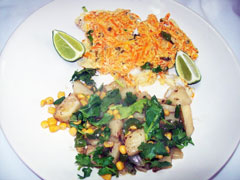 Instructions
Wash Fish With Lime.

Pat Dry With Paper Towel.

Season Fish With Malher Consome, Malher Black Pepper And Malher Garlic Powder.

Place Fish On Aluminum Foil And Set Aside.

In A Bowl, Mix Carrots, Sweet Pepper And Onion Together.

In A Separate Bowl Beat Grace Evaporated Milk And Grace Coconut Milk Powder Together Until Smooth.

Add Milk Mixture To Vegetables, Mix Well.

Spoon Mixture On Top Of Fish. Foil Aluminum Foil.

Place In Baking Sheet And Bake At 350 Degrees For

15-20 Mins

.

Serve Hot With Grace Coconut White Rice Or Potatoes.


Optional- Wash Fish With Grace White Vinegar
Lion Fish Fillet Can Be Substituted For Fish Fillet Of Your Choice.