Yus Key Lime Pie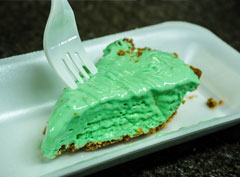 Instructions
Place The Devon Digestive Biscuits In The Pie Tray And Crush All Of It.

Add 3 Teaspoon Of Butter To The Crumbled Cookies.

Next Put The Mixed Crumbled Cookies With The Butter In The Freezer, While Making The Body For The Pie.

In A Bowl Mix The Can Of Grace Full Cream Condensed Milk, With The 2 Sachets Of Yus Lemonade And The Grace Coconut Milk Powder.

Add 3 Drops Of Benjamins Green Coloring.

Lastly, Mix Everything In The Body Until It Is Green And Creamy Then Add It On Top Of The Crumbled Cookies.

Place The Pie In A Freezer For An

Hour

.