Spaghetti With Grace Picante Corned Beef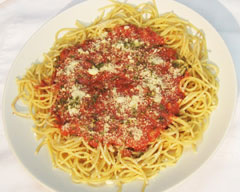 Instructions
Boil 2 Cups Water And Add Spaghetti, Grace Vegetable Oil And Malher Consome, Cook For Approximately

5 Minutes

.

Drain And Set Aside.

Heat A Sauce Pan, Add Grace Corned Beef, Onions, Oregano, Malher Garlic Powder And Malher Black Pepper, Cook For

2 Minutes

.

Add Grace Picante Ketchup And 1/2 Cup Parmesan Cheese.

Add A Cup Of Water.

Stir Continuously For A Few Minutes Until Sauce Thickens.

Remove From Heat And Place Over Spaghetti.

Sprinkle With Parmesan Cheese.