Grace Luncheon Meat Pasta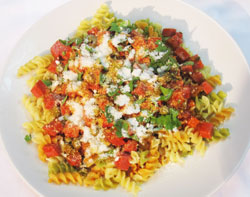 Instructions
Heat Grace Vegetable Oil In A Sauce Pan.

Add Onion, Sweet Pepper And 2 Tsps Cilantro, Sauté For

1-2 Minutes

.

Add Tomato Sauce, Encona Sweet Chili Sauce, Malher Garlic Powder, Malher Consome, Malher Black Pepper And Water, Stir Occasionally For

2-3 Minutes

On Low Heat.

Add Grace Luncheon Meat And Grace Peas And Carrots.

Let Cook For

2-3 More Minutes

.

Serve Over Pasta.

Sprinkle With Cilantro And Parmesan Cheese.