Quickie Pot Pie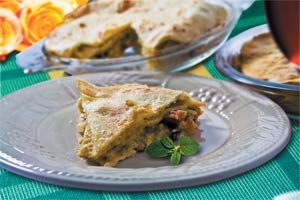 Instructions
Preheat Oven To 375°

Clean And De-Bone Chicken Breasts.

Dice In Small Pieces.

Add Grace Chicken Seasoning And Malher Garlic Powder.

In A Medium Saucepan Sauté Chicken, Onions And Cilantro, Until Meat Is Cooked Through.

Add Cream Of Chicken Soup, Grace Evaporated Milk, Grace Mixed Vegetables And Grace Hot Sauce.

Line A 9" Pie Plate With 1 Flour Tortilla And Spoon In Mixture.

Cover With Second Tortilla Tucking In The Edges.

Coat With A Non-Stick Spray And Bake For

20-25 Minutes

Or Until Top Is Golden.