Guacamole with Chips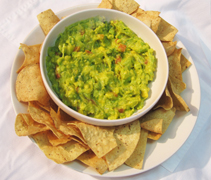 Instructions
Cut Avocados Lenghtwise And Remove Seed.

Scoop Out Avocado Flesh With A Spoon.

Chop The Avocados Roughly And Place In A Bowl, Add Lime Juice.

Use A Masher To Break Up The Avocado Until Amost Smooth. Do Not Over Mash.

Add Onion, Tomato, Malher Garlic Powder, Malher Black Pepper, Cilantro, Grace Coconut Oil And Grace Habanero Pepper Sauce To Taste. Mix Well.