Green Banana Curry And Tuna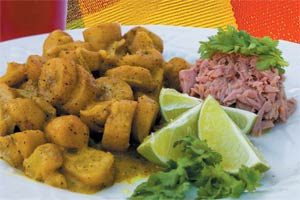 Instructions
Slice Skinned Bananas And Cut Flesh Into 1 Inch (2.5cm) Slices, Heat Grace Coconut Oil In A Deep Skillet And Fry Banana Slices In Batches Until Lightly Browned On Each Side.

Add Onion To Pan And Cook For

10 Minutes

Until Soft.

Return Banana Slices To Pan And Stir In Curry Paste.

Add Half The Grace Coconut Milk And Stir Well.

Cook For

10 Minutes

Over Low Heat Then Add Seasoning.

Pour In Remaining Grace Coconut Milk And Simmer Until Mixture Thickens And The Bananas Break Down A Little.

Garnish With Cilantro And Lime Wedges And Serve Immediately With Grace Tuna Light Chunk And A Glass Of Your Favorite Yus Drink.