Grace Tuna Balls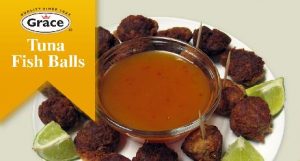 Instructions
Grind Onion And Pepper In Food Processor (Or Chop Using A Knife), Add To Drained Grace Tuna.

Add Lime Juice, Malher Consome, Malher Black Pepper, Malher Garlic Powder, Grace Soy Sauce, Breadcrumbs And Egg. Mix Well.

Wet Hands And Form Balls Out Mixture.

You Can Make Tiny Balls For Appetizers Or Bigger Ones To Use As Main Course.

Heat Grace Coconut Oil In Frying Pan, Add Balls And Fry On All Sides

Until Golden Brown. Be Careful Not To Turn Too Often To Avoid Breaking.

If Frying Pan Gets Too Hot, Lower Heat.


Serve Tuna Fish Balls With Hot Mamas Manganero Sauce Or Hot Mamas Sweet Sauce.