Grace Spicy Luncheon Meat Dip #2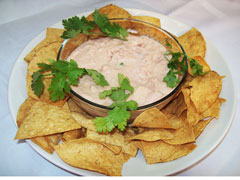 Instructions
Dice Grace Luncheon Meat, Put In Blender With 1/2 Can Grace Evaporated Milk, Malher Garlic Powder And Grace Habanero Pepper Sauce.

Blend On High Speed Until Smooth, Pour Mixture Into Bowl.

Add Onions, Sweet Pepper And Grace Mustard, Mixed Well Together.

Serve In Bowl With Corn Chips Or Crackers Garnished With Cilantro.