Grace Luncheon Meat Vegetable Rice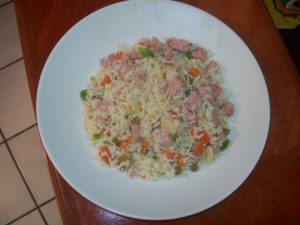 Instructions
In A Pot Combine Grace Coconut Milk, Water And Malher Consome.

Bring To A Boil.

Add Rice And Stir.

Simmer Covered For

15 To 20 Minutes

Until Rice Is Fully Cooked.

Remove Rice From Heat.

In A Large Frying Pan, Heat Grace Coconut Oil And Sauté The Onion, Sweet Pepper And Luncheon Meat.

Add Malher Garlic Powder And Grace Mixed Vegetable.

Stir On Low Heat.

Add Cooked Grace Coconut Rice.

Stir Until All Ingredients Are Mixed.