Grace Luncheon Meat Stuffings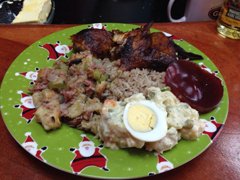 Ingredients
8

Oz

Margarine

1

Can

Grace Luncheon Meat

Ham And Pork / Pork And Chicken

1

Lb

Onion

Finely Diced

½

Lb

Celery

Finely Diced

2

Pk

Sliced Bread

1

Oz

Fresh Parsley

1

Tsp

Sage

½

Tsp

Thyme

½

Tsp

Marjoram

½

Tsp

White Pepper

1

Tbsp

Malher Consome
Instructions
Preheat Oven At 375°F.

Put A Skillet Over High Heat To Melt Butter.

Place Grace Luncheon Meat On A Plate And Mash Well With A Fork.

Cook The Grace Luncheon Meat, Drain And Cool.

Use The Drained Fat To Sauté The Onions And Celery Lightly Until Tender But Not Browned. Cool Thoroughly.

Cut The Bread Into Small Cubes. If Desired, Crust May Be Trimmed First.

Combine The Bread And Vegetables In A Large Stainless Steel Bowl.

Add The Herbs And Seasoning And Toss Gently Until All Ingredients Are Well Mixed.

Add The Cooked Meat And Mix Well.

Make A Stock With Malher Chicken Consome And Hot Water To Make About 2 Cups.

Sprinkle The Stock A Little At A Time And Mix After Each Addition.

Add Just Enough To Make The Dressing Slightly Moist, Neither Dry Nor Soggy.

Place In A Greased Baking Pan And Bake At 375°F Until Hot At The Center, About

1 Hour.