Tres Leches Cake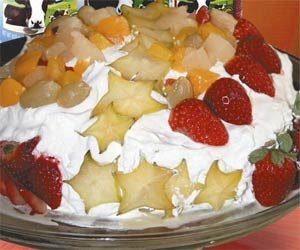 Instructions
Preheat Oven To 350 Degrees F. (175 Degrees C).

Grease And Flour A 9 X 13 Inch Pan.

In Large Bowl, Cream Together Butter And Sugar Until Light And Fluffy.

Add Egg Yolk One At A Time, Beating Well With Each Addition

Then Stir In Vanilla.

Sift Flour And Baking Powder Together.

Add Flour Mixture Alternately With The Milk; Beat Well After Each Addition.

In A Large Glass Or Metal Mixing Bowl, Beat Egg Whites And Cream Of Tartar Until Stiff White Peaks Are Formed.

Gently Fold Egg Whites Into The Cake Batter Using A Rubber Spatula, Pour The Mixture Evenly Into The Prepared Pan.

Bake In Preheated Oven For

25 To 30 Minutes

. Allow To Cool.

In A Small Bowl, Stir Together 2 Cups Heavy Cream, Evaporated Milk And Sweetened Condensed Milk.

You May Have 1/3 To ¼ Left Over.

Combine The Whipped Cream And Sugar, Spread Over Garnish, Plates With Soaked Cake.


Refrigerate Before Serving, Leftover Milk Mixture And Swirl In Jam If Desired.