Iced Coffee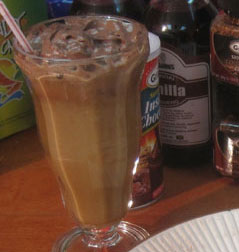 Instructions
To Make The Coffee Cubes Boil 1 Cup Of Water Then Add 1 Tbsp Grace Colombian Coffee.

Next Pour Into Ice Cube Tray And Let Turn Ice In The Freezer.

In A Tempered Glass Cup, Dissolve The Coffee And Sugar In Hot Water.

Next Add Cold Gloria Milk To Fill ¾ Of The Cup.

Lastly Add Coffee Cubes In Place Of Ice To Prevent Watering Down The Drink. (Optional)

Top With Whipped Cream Or Ice Cream.